AZ Serum recommended by iHerb!
Bath and Beauty Picks Under $15
Sometimes I look at my stash of bath and beauty products and wonder if I will ever finish using them all up before they expire. However, I have found some gems recently that are not only being used with regularity within my beauty routine, but they won't break the bank either. What's not to love?
Cos De BAHA AZ Azelaic Acid 10 Serum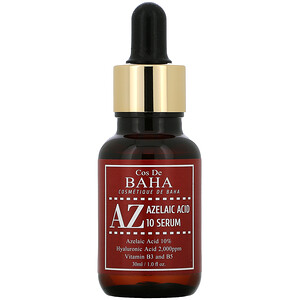 Azelaic acid isn't talked about enough, in my opinion, as lots of the other "acids" get the spotlight, such as glycolic acid or hyaluronic acid. However, I might have found my acid soulmate in this 
Azelaic Acid serum from K-Beauty brand Cos De BAHA
. I use about two drops in the evening about every third night, as any more than that is a little drying for my combination skin, and it's been helping with redness, pigmentation and keeping my skin clear and bright. While I've only been using it for about two months now, it's definitely earned a spot in my routine as holy grail status.
↓ more details